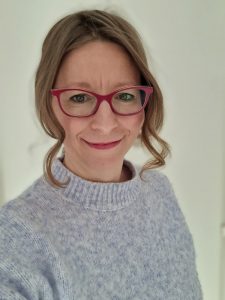 ENGLISH-SPEAKING THERAPIST in geneva
As an English-speaking therapist in Geneva, I look forward to welcoming individuals and couples into my practice who are looking for a fellow traveller to accompany them in a process of self-growth and change. 
I am a Masters-level psychological counsellor, who trained in both the US and UK. In Switzerland, I am registered as a "counselor / relation d'aide" in the canton of Geneva and am a recognized individual member of the Swiss Association for Counselling, and am thus entitled to use the specialist title "Counsellor SGfB".
My training is integrative, drawing on a variety of approaches, including person-centered, psychodynamic, trauma-informed, intersubjective systems theory, interpersonal neurobiology, infant-parent and attachment and relational therapies. For more information on what this means, click here.
I provide therapy in English either in-person in Geneva or online.
Qualifications
I have a Masters in Clinical Mental Health Counseling from William James College, Boston, USA. Prior to this I undertook a one-year Infant Observation (infant-parent psychotherapy) training certificate from the Center for Early Relationship Support, JF&CS, Boston, USA. In addition, I completed a one-year introduction to counselling and therapy skills at WPF Therapy in London, UK (accredited by the University of Roehampton, UK).
More recently I completed certification programmes in Developing Skills in Working with Couples from Tavistock Relationships; Perinatal Mood Disorders and Advanced Perinatal Mental Health Psychotherapy from Postpartum Support International (PSI); Clinical Assessment Skills from WPF Therapy, London; Mentalizing in Practice – Working with Parents and Babies from the Anna Freud Center in London's International Training School for Infancy and Early Years; Relational Couples Therapy Certification through the Centre for Relational Couples Therapy in SW England; Mentalization Based Treatment (MBT) through the Anna Freud Centre in London and the Developmental Model of Couples Therapy (Level 1) from The Couples Institute in California, USA.
In addition, I regularly attend shorter trainings in order to continue to stay abreast of new developments in psychotherapy, and to comply with my ethical requirements to continually develop and learn professionally. 
Experience
I have nine years of experience training and working with clients of various backgrounds in a therapeutic capacity. This includes individuals and couples dealing with anxiety and depression and looking for support making changes in their lives. 
In addition I have worked with clients struggling with substance abuse and addiction and its impact on their functioning, as well as new parents navigating the highs and lows of pregnancy and parenting. 
Finally, I have worked with vulnerable children and families dealing with high levels of daily stress caused by social and racial inequality, economic pressures and relationship breakdown.
Professional Memberships
I am a registered "counselor / relation d'aide" in the canton of Geneva. I am an individual member of the Swiss Association for Counselling and am thus entitled to use the specialist title "Counsellor SGfB". I am obliged to observe the SGfB Quality Standards, the Foundations of Ethical Practice and the Charter of Ethical Practice.
I am also a Registered Member (MBACP No. 00926737) of the British Association of Counselling and Psychotherapy (BACP) and bound by the BACP Ethical Framework for Good Practice in Counselling and Psychotherapy. 
In addition, I am a Professional Member of the American Counseling Association (ACA) (Member No. 6463229) and am similarly bound by their ethical framework. 
I am one of two Swiss Coordinators for Postpartum Support International, offering advice and support to women and their families in the postpartum period. 
Prior Life Experience
Prior to working as an English-speaking therapist in Geneva, I gained a Masters in Globalization, Ethnicity and Culture from the University of Sussex, UK and a Masters (Hons) in Social Anthropology with Development Studies from the University of Edinburgh, UK. 
I worked for ten years as a researcher, writer and editor on issues including human rights, migration, asylum and refugee issues, and issues of racism and discrimination.
This prior life experience means that I am particularly interested in the experience of migration and travel, as well as settling and integration, which is often at the forefront of clients' minds when they come to see me. 
See here for more information on my work with international migrants.