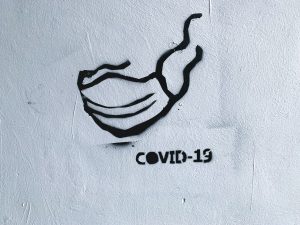 By Rebecca Wood MA MBACP
15 August 2020
Being pregnant is a time of momentous change for women and their partners. It is one of life's great periods of transition and as such is recognized as being a time of understandable emotional uncertainty and upheaval. Yet expected concerns during pregnancy can morph into elevated levels of stress, anxiety and worry – and never more so than when your pregnancy coincides with a global pandemic.
What do we know about the emotional impact of living through coronavirus, particularly its impact on pregnant women, their partners and their babies? What do we know to be effective protective strategies for emotional wellbeing and resiliency in pregnancy?
Deconfinement, pregnancy and COVID-19
Here in Switzerland we are living through a period of deconfinement, in which many of our norms of daily life have reappeared. Yet with the successful development of a vaccine still a way off, our interactions and life are corralled by necessary physical and hygiene practices. At the same time, despite the lifting of lockdown, uncertainty remains about whether a return to confinement will be necessary in the short-to-medium term.
For women who have been pregnant during coronavirus, these impacts are far reaching. At the most fundamental level, pregnancy can be a surreal experience, not least for first-time mothers. The inevitability of the biological clock ticking down to a due date is simultaneously met with a dawning realization that there is much about this process that cannot be controlled. In the face of this unknowingness and uncertainty, many women hold on tight to voices of expertise, whether from medical doctors, birth-rights advocates or parenting advisors post-birth. Yet for many women, those expert voices have been frighteningly quiet in the face of this pandemic.
This changed in part on 5 August 2020, when the Federal Office of Public Health (FOPH) in Switzerland, alongside the Swiss Association for Gynaecology and Obstetrics (SGGG), announced that pregnant women would now be included in a COVID-19 "especially at risk" category.
What does being "especially at risk" mean for pregnant women in Switzerland?
For many women who are pregnant, advice to take extra precautions against infection with the coronavirus been a standard part of their antenatal care since the virus first appeared. Women were advised to socially distance, work from home where possible, regularly wash their hands and wear a mask when unable to socially distance. For some pregnant women, the opportunity to be at home and avoid public spaces has felt liberating.
This advice was based on what at the time were limited studies available from the US, China and Italy which seemed to indicate that pregnant women were at no greater risk of severe illness if infected with the coronavirus than non-pregnant women [1]. However, in the last few months, a series of clinical studies from the US, Sweden, France and Belgium have found that pregnant women appear to be at a higher risk of more serious illness if infected with the coronavirus [2].
The new tranche of studies has more clearly demonstrated that pregnant women appear to be at risk of having a more serious reaction to COVID-19 illness, which may result in hospitalization, admission to an ICU and even intubation. These risks are elevated further in cases of obesity, hypertension and maternal age over 35 years old. All studies had limitations (e.g. the American study failed to specify whether the hospital admission was COVID-related or pregnancy related) but taken as a group their findings were significant enough to warrant a change in policy by Swiss authorities.
What this will mean in practice is that pregnant women are advised to follow coronavirus guidelines for "especially high risk" people, to follow all hygiene and social distancing requirements and, most importantly, that responsibility will lie with a women's place of work, under the Maternity Protection Ordinance, to ensure that women are as best as possible protected from infection with the virus at work.
Emotional impact of being pregnant in a time of COVID-19
It is clear that levels of stress and anxiety have risen in the world as we battle with the uncertainty and unknowability of living with this virus. Indeed, it would be grounds for some concern if we were not able to express and acknowledge that our stress levels have risen – a psychologically expected and understandable response to the pandemic. Feelings of helplessness, exhaustion, lack of control, hyper-vigilance and being in a "waiting game" may all seem familiar at different periods this year.
Joy and excitement, intermingled with worry and uncertainty have been standard features of many parents-to-be experiences of pregnancy. But being told that pregnant women are now at heightened risk has led to a flurry of different emotions – fear, dismay, grief and sadness for many, relief for some in finally having a more definitive answer. That pregnant women are feeling increased levels of stress is now being backed up by emerging small-scale pieces of research coming out of Turkey, China and Canada [3].
Yet, whilst our knowledge of coronavirus is limited at best, our knowledge about stress in pregnancy as well as emotional wellbeing and resilience is backed up by decades of research findings [4]. What tools are available to pregnant women as they navigate this strange and unsettling new landscape?
Tips for effective emotional protection strategies in pregnancy
1. Acknowledging stress.
Consciously acknowledging levels of stress and anxiety can sometimes be counterintuitive when we may be culturally and socially prompted to celebrate joy and excitement in pregnancy. Acknowledging the complexity of this experience can be an important and cathartic part of embracing this pregnancy "as it is", and of taking some first steps towards mediating stress levels.
2. Allow for grief.
One of the emotions that has often been attached to this moment in time is a sense of grief or mourning for a long-imagined and hoped-for pregnancy and/or birth. We are all are born into families and environments which provide something of a blueprint for what our expectations of pregnancy and family life will be – whether it is an embrace or a rejection of this experience. Yet this era of COVID-19 has robbed many of what they had imagined pregnancy would look like. Restricted in movement, perhaps unable to see family and friends or prepare for the arrival of their baby in the way that they had hoped, pregnant women and their partners can be left with a sense of mourning and loss. Allowing oneself to feel sad and to grieve for a lost imagined pregnancy is not wallowing but acknowledging and embracing these understandable emotional responses.
3. Reclaiming your pregnancy.
Alongside grief comes a more optimistic turn – to reclaim and reimagine this pregnancy. Finding ways to ground yourself in a "new normal" and to embrace your new reality are important steps towards feeling agency in your live, as opposed to the victims of forces beyond your control. Small steps matter.
4. Importance of social connection despite physical distance.
Loss of contact with others for pregnant women can be debilitating. Women have long drawn strength from a shared experience of pregnancy with others. Despite admonitions to remain socially distanced during COVID-19, there are still options for women who are seeking social connection – whether it is done in person at a distance or via online technology. What we have been reminded throughout this pandemic is the enormous importance of social connection despite necessary physical distance. Adapted pregnancy celebrations, baby showers or bangle ceremonies, held over zoom, may be a way to re-story and re-claim your pregnancy.
5. Find your social connections.
Similarly, we all have a need to connect with others. This may be finding one good friend who you can trust to check in with you on a regular basis. Or perhaps its accessing the wealth of free online courses in prenatal yoga, birth preparation and meditation that have sprung up. Pregnancy support groups that would once meet in person are thriving on Zoom or via Facebook.
6. Meaning-making as a cathartic process.
We know that in order to deal with painful memories, a process of story-telling needs to occur. One way for pregnant women and their partners to do this is creatively – through writing, painting, drawing or whatever medium appeals. You could write to your future self or your unborn baby to tell the story of this moment. Talking to your baby is also a way to tell them about what is happening and to begin the process of connecting to one another. Your baby recognizes your voice in the womb and from birth will turn their heads towards the sound of you, so talking to your baby now is just starting the process of connecting.
7. The importance of (safe) touch.
Touch is used by parents to soothe their babies and is one of the earliest ways in which babies regulate their emotions through external stimuli. Similarly we benefit from soothing (and safe) touch as a way to lower our stress hormones. For pregnant women avoiding physical contact with others, a hug or gentle foot massage from a partner could be enormously soothing for some. If physical touch with another is not possible, or not pleasurable, taking a moment to breathe, massage your own hands or squeeze your own shoulders can be a mindful moment of self care and slowing down.
8. Prioritize planning for the "fourth trimester".
The first three months after birth are commonly known as the fourth trimester. Planning for the support you think you will need in this time is even more important now, when perhaps these plans for support may be impacted by coronavirus. Knowing who is going to look after other children and pets can help to alleviate anxiety, as well as firmly establishing expectations around care for you, the mother. Preparing to say "no" to well-meaning family and friends and holding extra-tight boundaries may also be important. But also being able to ask for help with meal making, clothes washing and other children and pets is essential, particularly if planned family support has been impacted by travel restrictions. Practicing both clear boundary setting and articulating your needs can start in pregnancy.
9. Be active.
If you can, find ways to move your body and to be outside in nature as much as possible. A short walk every day in a quiet area gives you space to breathe and to physically be in your body and we know that physical movement and nature contribute to lowering stress hormones.
10. Protecting your sleep.
Prioritize rest through your pregnancy, in whatever way you can. Finding times to nap in the day, reducing commitments and plans on weekends, instigating good sleep hygiene practices before bed (no screens in the bedroom!), and getting help with other children or utilizing screen-time to give you time to nap are all valid options.
11. Limit exposure to social media and news.
In an effort to decrease stress levels and heighten relaxation, switch off or limit your social media use and your exposure to the news cycle. Stick to reliable sources of information on COVID-19 and pregnancy, such as the World Health Organization, Unicef and the Swiss Federal Office for Public Health, and sources of friendship and support that are not tainted by negative or overwhelming online stimuli.
12. Seek support.
If you are pregnant and are not feeling your usual self, are struggling to function as you usually would, and this has lasted for a few weeks, or if you notice a change in your partner, reach out for help. We know that depression and anxiety in pregnancy is massively underreported and often goes untreated. Yet postpartum depression is the number one complication of pregnancy. We also know that untreated depression in pregnancy carry very real risks for both baby and mother. The good news is that perinatal depression and anxiety are eminently treatable. Speak to your doctor. Treatment options include talk therapy and/or medication. To read more about mood in pregnancy, see the Postpartum Support International website.
13. Be kind to yourself.
Being pregnant during the coronavirus pandemic is an enormously challenging moment. Be kind to yourself. Do what you need to look after yourself and your baby. Know that you can't get it perfectly right and that that is okay. You are doing the best that you can in very difficult circumstances. We now know that the growing love and attachment between a baby and their parents is not based on perfection but on being "good enough". In fact, babies grow into healthy adults through an experience of mistakes being made and then repaired. Allow yourself to not be perfect in pregnancy – to be a "good enough" pregnant mother-to-be.
Reliable sources of information:
Federal Office of Public Health (FOPH) – Frequently Asked Questions About The New Coronavirus https://www.bag.admin.ch/bag/en/home/krankheiten/ausbrueche-epidemien-pandemien/aktuelle-ausbrueche-epidemien/novel-cov/faq-kontakte-downloads/haeufig-gestellte-fragen.html?faq-url=/en/categories/pregnancy.
World Health Organization (WHO): Q&A on COVID-19, pregnancy, childbirth and breastfeeding https://www.who.int/news-room/q-a-detail/q-a-on-covid-19-pregnancy-childbirth-and-breastfeeding WHO page dedicated to pregnancy, birth and breastfeeding.
UNICEF – Navigating pregnancy during the coronavirus (COVID-19) disease pandemic https://www.unicef.org/coronavirus/navigating-pregnancy-during-coronavirus-disease-covid-19-pandemic?fbclid=IwAR1P65ckNyeSz_dkdBm6rDyt4UA_WC3X8sSe69a6DhyzJUYb5u9Fkd2fohc Excellent source of information for women who are pregnant, including advice about keeping safe, birth, breastfeeding, planning for birth and a useful question list for the hospital/birthing centre, as well as ideas on self care.
Rebecca Wood MA MBACP is a British/American-trained psychological counsellor who practices in Geneva, Switzerland and works from an attachment and person-centred perspective. She offers therapy to adults who are struggling and seeking change, as well as specializing in emotional support for pregnant women and parents with their young babies. She trained and specialized in infant-parent psychotherapy, a form of therapy which works with women and parents who feel that "this is not what I expected". She supports emotional dysregulation and difficulties with self-regulation, for both babies and their parents. 
Rebecca Wood Counselling, Rue de Savoie 6, Geneve 1207 | +41 79 1278658 | info@rebeccawoodcounselling.com | rebeccawoodcounselling.com
References
[1] Durankuş, F. and Aksu, E. (2020, 18 May). Effects of the COVID-19 pandemic on anxiety and depressive symptoms in pregnant women: a preliminary study. The Journal of Maternal-Fetal & Neonatal Medicine; Kasraeian, M., Zare, M., Vafaei, H., Asadi, N., Faraji, A., Bazrafshan, K. & Roozmeh, S. (2020). COVID-19 pneumonia and pregnancy; a systematic review and meta-analysis. The Journal of Maternal-Fetal & Neonatal Medicine.
[2] Ellington S., et al. (2020). Characteristics of Women of Reproductive Age with Laboratory-Confirmed SARS-CoV-2 Infection by Pregnancy Status — United States, January 22–June 7, 2020. MMWR Morb Mortal Wkly Rep 2020. 69:769–775; Collin J., Byström E., Carnahan A., and Ahrne M. (2020). Public Health Agency of Sweden's Brief Report: Pregnant and postpartum women with severe acute respiratory syndrome coronavirus 2 infection in intensive care in Sweden. Acta Obstet Gynecol Scand. 2020. 99:819–822; Badr D.A., et al. (2020). Are clinical outcomes worse for pregnant women ≥ 20 weeks' gestation infected with COVID-19? A multicenter case-control study with propensity score matching. American Journal of Obstetrics and Gynecology (2020).
[3] Berthelot N et al. (2020). Uptrend in distress and psychiatric symptomatology in pregnant women during the coronavirus disease 2019 pandemic. Acta Obstet Gynecol Scand.; Durankuş, F. and Aksu, E. (2020). Effects of the COVID-19 pandemic on anxiety and depressive symptoms in pregnant women: a preliminary study, The Journal of Maternal-Fetal & Neonatal Medicine; Lebel, C., et al. (2020). Elevated depression and anxiety among pregnant individuals during the COVID-19 pandemic. https://doi.org/10.31234/osf.io/gdhkt. Wu Y et al. (2020). Perinatal depressive and anxiety symptoms of pregnant women along with COVID-19 outbreak in China, American Journal of Obstetrics and Gynecology (2020).
[4] Dunkel Schetter, C. and Tanner, L. (2012). Anxiety, depression and stress in pregnancy: implications for mothers, children, research, and practice. Curr Opin Psychiatry. 2012 March ; 25(2): 141–148.